Why Use Go Natural Oils?
Humans have been using oils since the time of Ancient Egypt as far back as 4500 BCE as medicine as well as for skin and body care. Go Natural is Pakistan's first and largest essential and cold pressed oil company that guarantees purity. Go Natural's steam distilled process guarantees that you get the natural essential oils possible. When mixed with our 100% natural cold pressed carrier oils, these magical gifts of nature can be used for aromatherapy, skincare and haircare.
Your Custom Blend
We understand that you are unique and that you have unique needs when it comes to your skin and hair. Which is why, for the first time in Pakistan, we have created fully customizable oil blends. Your unique blend, custom created using our natural oils to ensure that you get the best results. The bottles are available in 20 ml, 50 ml and 100 ml variations that all come with a customized label of your choice, so you can have your name on it!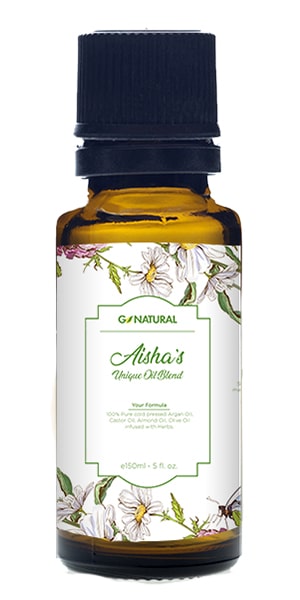 How To Create My Blend?
Creating your custom blend with our tool is easy.

Choose your desired bottle size.
Using our tool, you can choose up to 12 carrier oils to use in your blend. Specify the amount of each oil in milliliters.
Next, choose any essential oils that you might want to add. Essential oils are highly concentrated which is why it is advisable to use not more than 25 drops of essential oils in 50 mls of carrier oils.
Type the name to be printed on your blend bottle
Choose how often you would like us to send you your custom blend. If you are not sure, choose 'Once'. You can reorder anytime by just telling us your order number.
Each blend is handmade at the time you order to ensure freshness and potency. All custom blend sales are final and non-refundable.
Please allow 6-8 working days for processing.